---
Project Overview
The Image Group, a promotional products distributor, was looking for a website solution to offer their customer, Textron.

Textron's current company store website has branded products in inventory and ready for immediate shipment with no minimum order requirement. The Image Group wanted to provide Textron with an Idea Shop website which would include a full catalog of promotional products from a variety of industry suppliers intended to compliment the stock, pre-designed items offered on the Company Store site.
Challenges
To avoid confusion on the part of the buyer, it was necessary to keep the Company Store website separate from the Idea Show website, since one shopping cart was for in-stock branded products and the other shopping cart was for custom orders.
Goals
The new DC-hosted Idea Shop website, had to replicate the look and feel of the Textron Company Store on a DC-hosted website.
The goal was to preserve the user's shopping experience as they transition from the Company store to the Idea Shop and back again.
Solution
DistributorCentral built a website on the DC platform that replicates the design of the existing Textron Company Store and provides navigation that quickly links the user back to the company store when they choose to do so.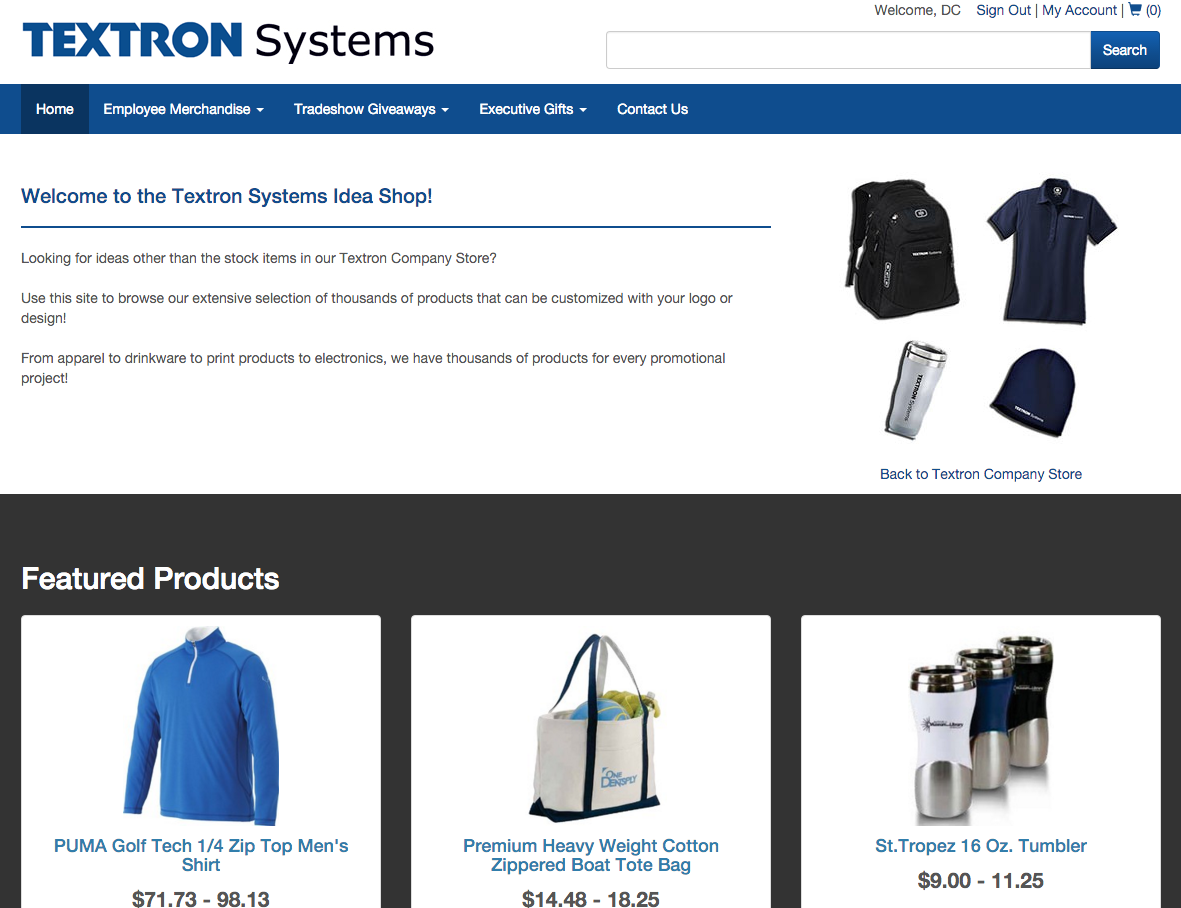 Success
The Image Group has the ability to limit the items offered in the new store by creating a catalog from their list of preferred supplier partners.
Services Offered
Custom catalog creation - pulls products only from The Image Group's approximately 40 preferred supplier partners. Gave option as to whether Idea Shop website should be standalone domain name or a host header for existing domain. Merchant Account & credit card processing functionality. Under Distributor Pro account tier, The Image Group would have the ability to upload custom Textron images to supplier's products.

"We were looking for an e-commerce enabled product search option for our client, Textron Systems, which allowed us to create a consistent look and feel to an existing company store we host for them. Another key we were looking for was the ability to control the suppliers available in the search to our preferred supplier network. After researching a number of different options, we turned to DistributorCentral to assist us in putting this site together. Their team was knowledgeable, responsive and a pleasure to work with. They completed out project in a short time frame and delivered a product that our client is thrilled with. Through this process we have made DistributorCentral our preferred partner for this platform and are currently running several DistributorCentral sites for other clients, and are continuing to add more. DistributorCentral has proven to be a terrific partner and we look forward to continuing to grow our success together."

David Berland, CAS
The Image Group, Inc.
Senior VP, Sales & Marketing
Shepenco's Supplier Website
---
How We Helped
Our project was to re-design the website for Shepenco - 82-year supplier of customized writing instruments, using DistributorCentral's new Responsive Web Editor.
The primary objective was to take control back over their company website. Shepenco previously did not have access to the system through their 3rd party host to make updates. With the DistributorCentral platform, Shepenco now has full access to maintain and make real-time updates to their data.
The Shepenco site now has online ordering functionality through DistributorCentral's e-commerce platform, a feature that was unavailable from their previous website provider. With product options and choices now setup more efficiently for online ordering, Shepenco's line went from 141 to 73 products. Shepenco's customers can now place accurate and complete orders online which helps to streamline the ordering process.
Since launch, the site has helped to increase order processing efficiency, eliminated customer service calls because website data is accurate and up to date and orders generated through the system have also increased.
What We Did
Created Tabs with associated pages
Linked categories and Images to products listed in the pages "Categories"
Programmed information for the "Create a Pencil" feature
Domain and website hosting
Provide monthly maintenance package
Created online virtual catalog
Check out the new Shepenco website!
Testimonial from Shepenco:
"We needed a solution. SHEPENCO's website has been lacking overall distributor "friendliness" for many years. Feedback from distributors included trouble searching for product, lack of product information, and absence of distributor sign in and ordering. Distributor Central made an effort to listen to what we needed, communicate how to implement it, and provide support after its completion. We could not be happier with how the website turned out and how our concerns and questions are answered and solved immediately."
Alex Moltz | Marketing Director | Shepenco®

TradeNet
---
Supplier TradeNet approached DistributorCentral (DC) with the goal of automating their shipping and billing processes. Utilizing the DistributorCentral API, built-in functions and the product "Shipping Manager", DistributorCentral's IT Director Chris Schlemmer was able to satisfy the goal without any major DC code changes in less than one month.
When integrated with DC, the result is a very streamlined workflow; distributors know exactly how much freight charges will be before ordering and they receive tracking information immediately when an order ships. Chris used DC "action" functions to invoice distributors, send tracking information via email, and charge the customer's credit card when an order ships.
Challenge
TradeNet uses DistributorCentral for their order management, but while DC allows for highly detailed packaging standards, it did not have a shipping solution.
Solution
Chris selected Shipping Manager for its features and ability to integrate with DC via secure API calls.
In the TradeNet factory, employees use the DC work-in-progress tool to track orders and log production times. Once an order is completed, the job ticket is scanned and the operator clicks the "Print Labels" button. This action triggers several events:
Order is scheduled for shipment with carrier
Tracking numbers are generated by carrier
Shipping labels are printed with distributor branding/return address
Shipping Manager sends API call to DC to change order status to Shipped
Tracking numbers are sent to DC from Shipping Manager
DC action creates and sends invoice to distributor
DC action charges distributor credit card (if on file and not terms customer)
DC action sends shipping notification to distributor along with tracking numbers
If the distributor is using the DC platform as their order management platform they can also automate the sending of shipment notifications to their customers, the creation and sending of invoices, and the processing of credit cards. We believe this is one of the few instances of a seamless "end-to-end" system in the industry that automates the process from customer/end-user order all the way through shipment and invoicing.
Success
The system has been well received both by TradeNet employees and distributors. Scott Perry, TradeNet's Director of Pre-Production Services said "the integration of DC and Shipping Manager has drastically improved the real-time deployment of information to our customers. When used in conjunction with our automated invoicing system, our customers are now notified the minute their order has shipped and provided immediate tracking information, saving significant time for both the customer and our call center."
New features such as this are always well-received by DistributorCentral customers and give our sales team a way provide additional benefit and opportunity to our customers as they adopt the DistributorCentral platform.
The return on investment for TradeNet was significant. Not only has the automation reduced staffing requirements by more than three people, it has provided TradeNet customer service team members and distributors with real-time shipping information. Problems are caught while they are happening and distributors and their customers are notified immediately, along with tracking numbers, when their orders ship. In addition, freight cost information from Shipping Manager is fed back into DC giving TradeNet the ability to audit their FedEx and UPS invoices. If desired, Shipping Manager has the ability to auto-select the least-expensive shipping method which has saved TradeNet $40,000/year in samples shipping.
For DistributorCentral, the project represents a long-term investment in its customers. The technical work undertaken by Chris not only creates more value and reasons for TradeNet to remain a lifetime DC customer, it also helps DistributorCentral provide an integration package that can now be offered to all of DC's other customers.